There always is one genre of movies that becomes the identity of the whole era. Be it romance, comedy, or villain-centric films, they have all enjoyed the status of the best-ever movie genre with time. Every now and then, Bollywood has managed to give the viewers the chills with scary and intimidating villains.
Needless to say, even if it was or wasn't intended, the category of movies has stayed with us for ages. When we talk about the villains of Bollywood, the evil mystical person who does nothing good is what we are reminded of. What used to be the perfect, nightmarish villain, has now, with the demands of the time, changed into an antihero- the epitome of a villain but always, mind you, always with an aggravating aspect and a background of a common man. But, a villain is a villain nonetheless and there can be no masala movies without the perfect villain in it.
Now that we have seen the transformation of the villains over the years, let's dip into the world of evil and know about the 10 most iconic Bollywood movies dialogues that the villains have uttered till now:
1. Amrish Puri the "Great Evil Boss" Indian Villain: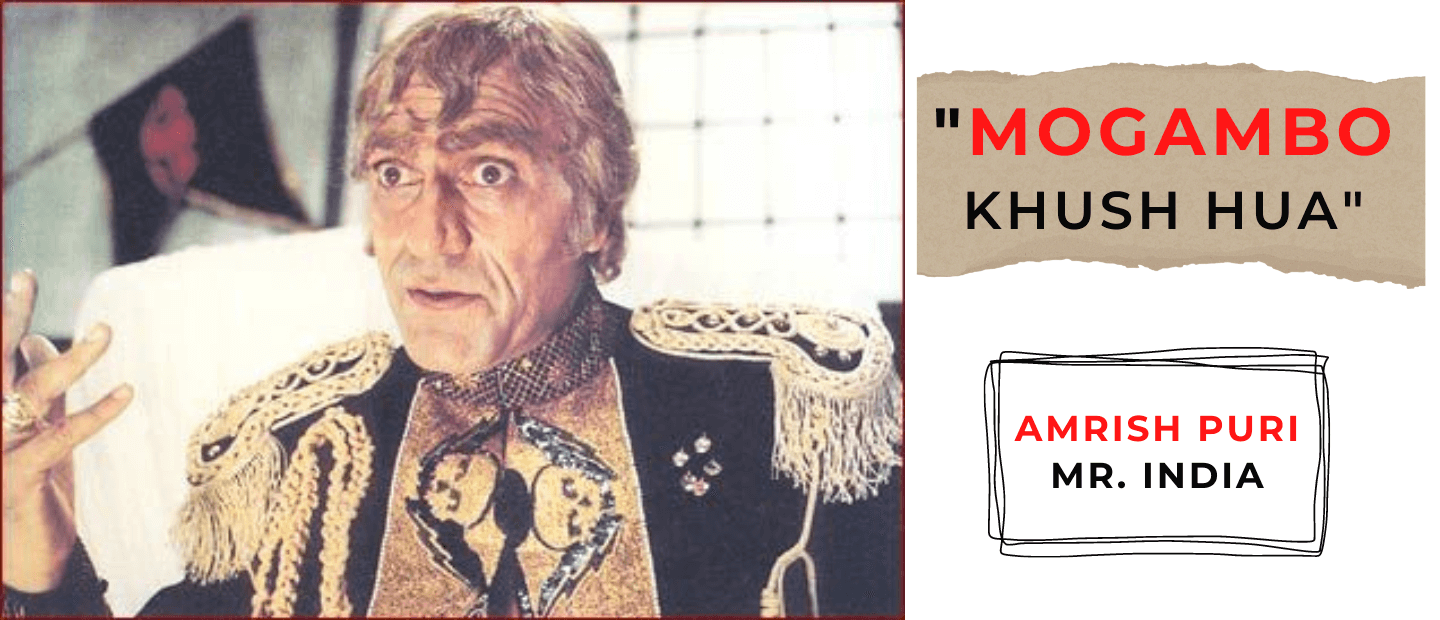 He has been praised as a highly flexible performer, who portrayed the ultimate nasty badass boss. His characters vary from an insane tyrant (Mogambo) to a Hollywood baddie Tantrik (Mola Ram). He consistently delivers his best performances and is deserving of the title of the best Bollywood villain whether he is playing a ruthless "Thakur," a wicked "Tantrik," or a ruthless "Dictator."
Key Dialogue:
Mogambo khush hua.
2. The wicked "Gabbar" of Bollywood who survives till the very end: Amzad Khan: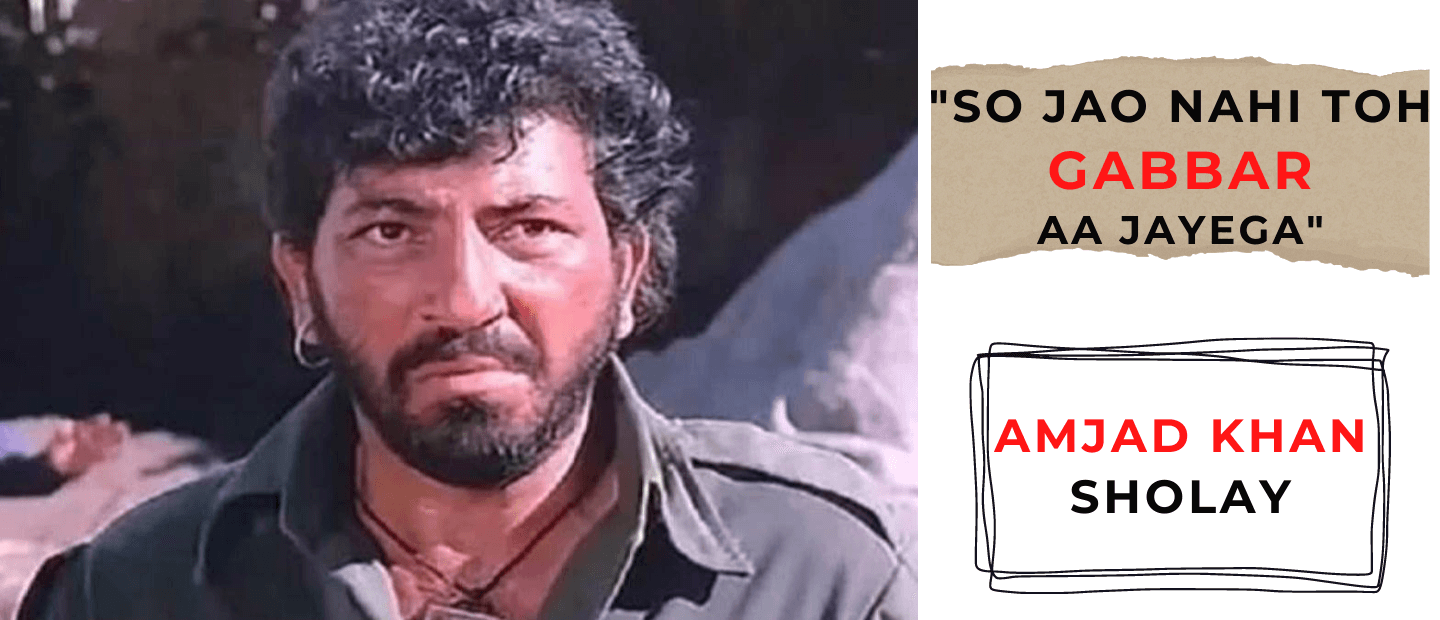 Even though Amrish Puri may be the actor that does villains best, The finest villain of all time was Gabbar, portrayed by Amzad Khan in the movie Sholay, Amzad Khan excelled in portraying the "haughty harsh villain." He had equal, if not greater, fame on the reel than Amrish Puri had. Sholay and Gabbar will be cherished memories for as long as there are any new Bollywood films.
Key Dialogue:
"So Jao Nahi Toh Gabbar Aa Jayega"
3. Ajit: the "Imperial" Indian Villain: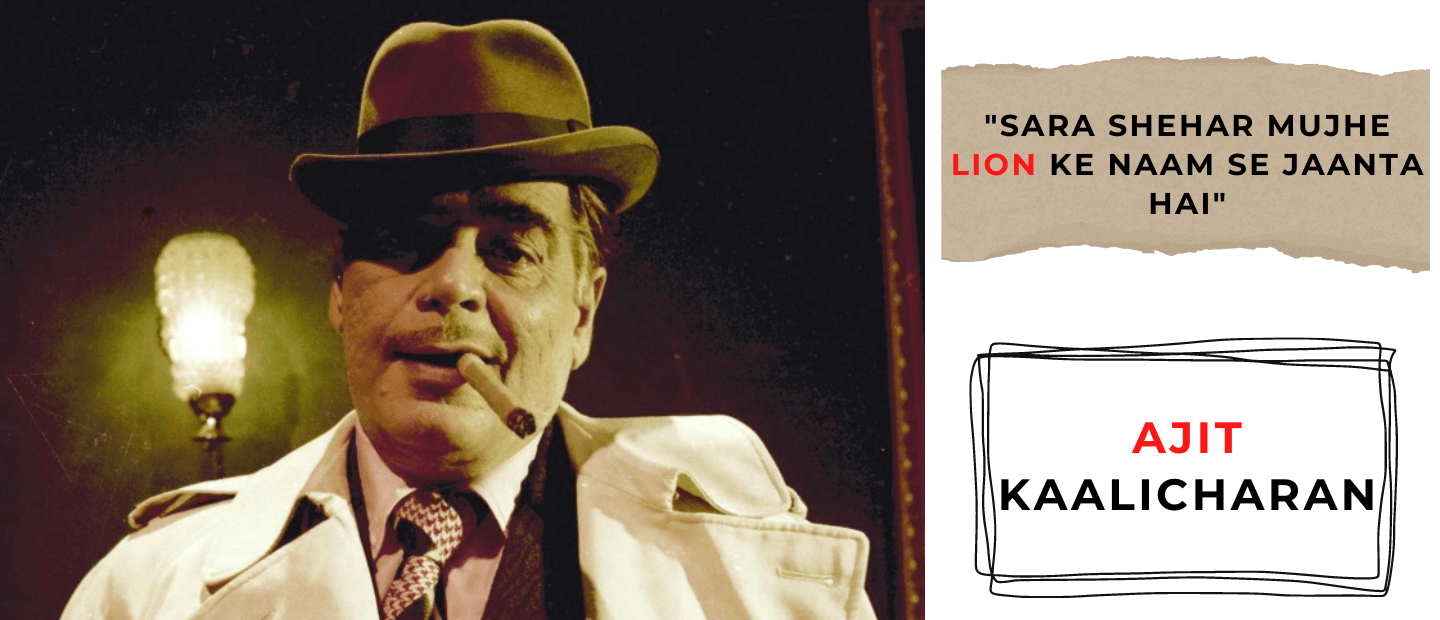 The best "Imperial" Bollywood villain was Ajit. Overall, he gave off the impression of being a well-dressed, intelligent, harsh, and genius villain. He is the leader of the Mafia and the underground and comes from a royal family. The "Lion" of Bollywood will never be forgotten.
Key Dialogue:
"Saara Shehar Mujhe Lion Ke Naam Se Jaanta Hai"
4. The "Fierce" Villain- Pran: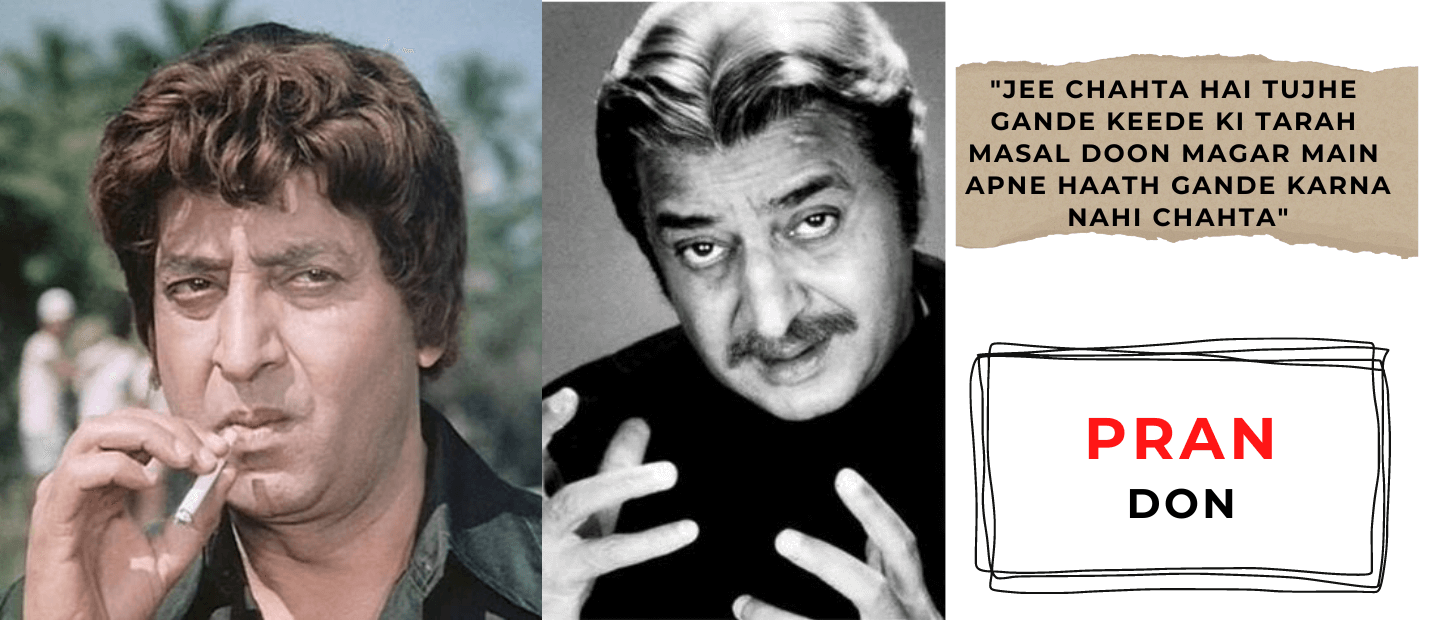 Pran was all of these characteristics: irate, macho, crooked, conman, infamous, etc. The best feature that helped him succeed as a villain was the way he played around with his eyes as a part of his character.
Key Dialogue:
"Jee chahta hai tujhe gande keede ki tarah masal doon … magar main apne haath gande karna nahi chahta"
5. Prem Chopra- "Conniving Fox" nemesis: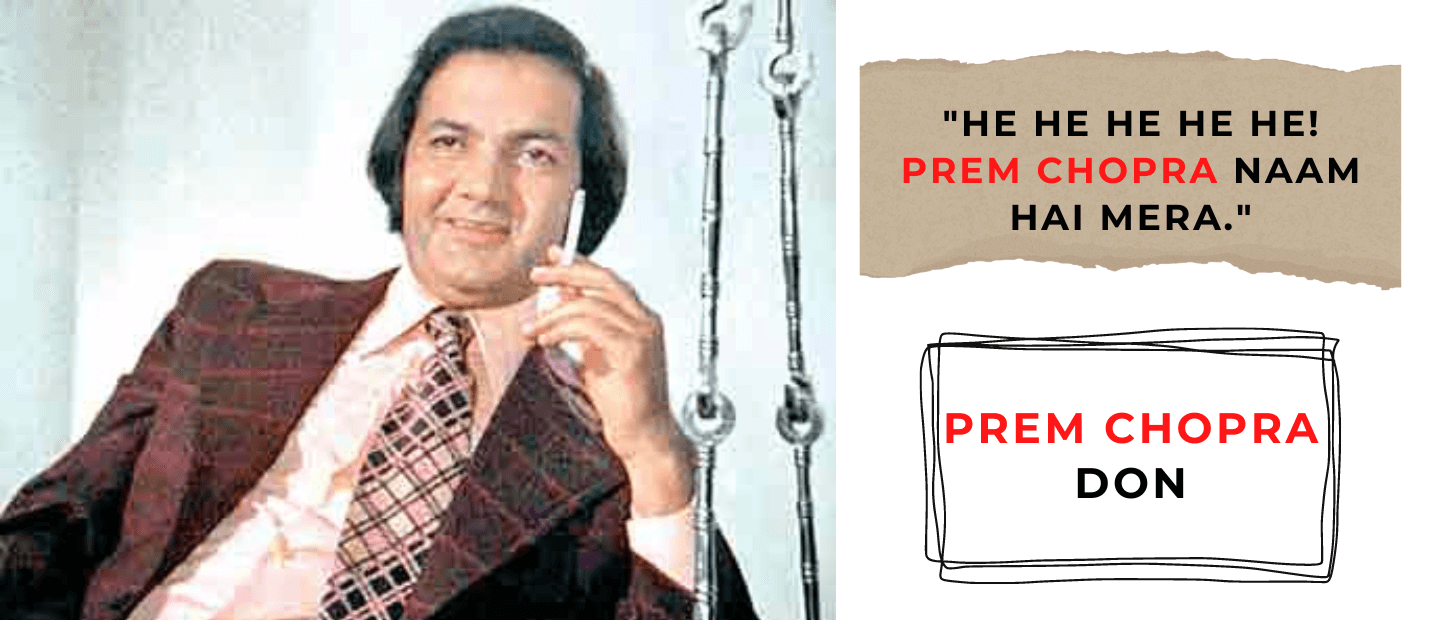 Prem Chopra would make a good Sly Fox. A villain with a complicated mind, who is smart, devious, crafty, and tricky- describes Prem Chopra perfectly. Additionally, he looks better as a terrible guy with "evil eyes" for women.
Key Dialogue:
He he he he he! Prem Chopra naam hai mera.
6. The "moneylending" Villain- Jeevan: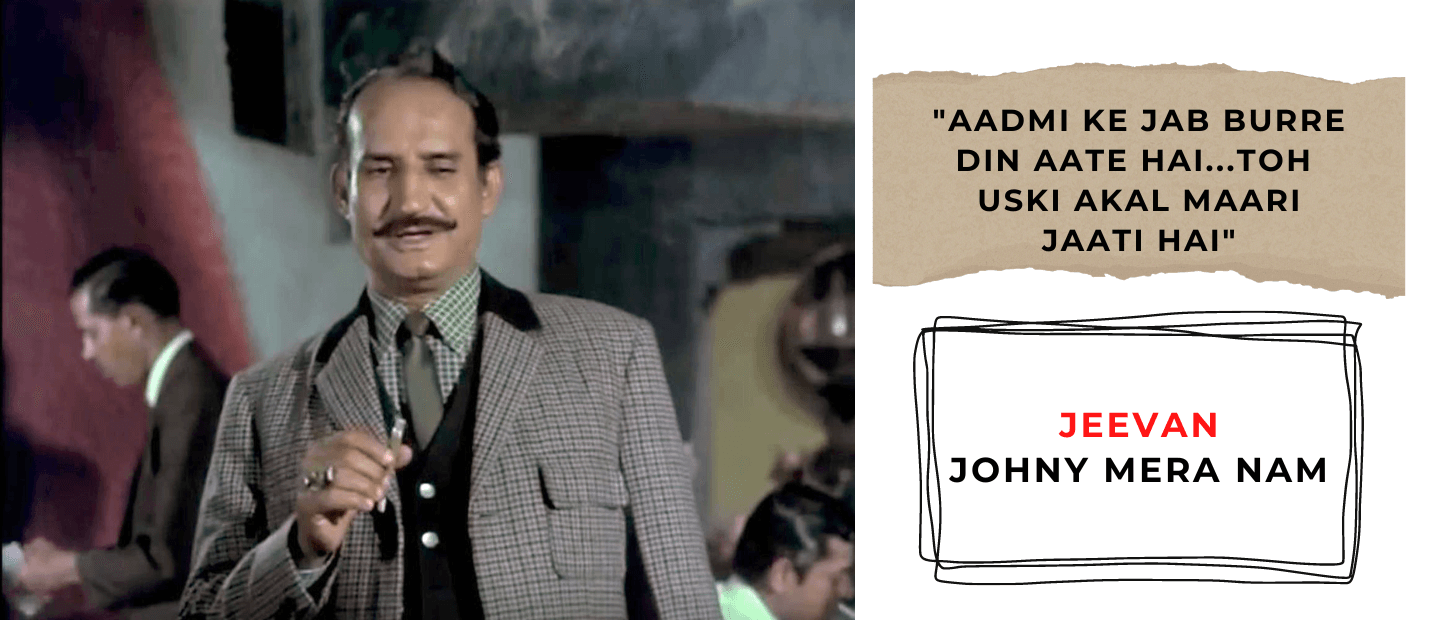 Jeevan, a well-known and acclaimed actor is ideal for the moneylender roles because of his thin build, cracked cheeks, and clever, gloomy eyes. In reality, he was the ideal choice for Shakuni as well, and in the 1970s, he really portrayed the character.
Key Dialogue:
"Aadmi ke jab burre din aate hai…toh uski akal maari jaati hai"
7. Shakti Kapoor, the "Coward Trouble maker" amongst the Indian Villains: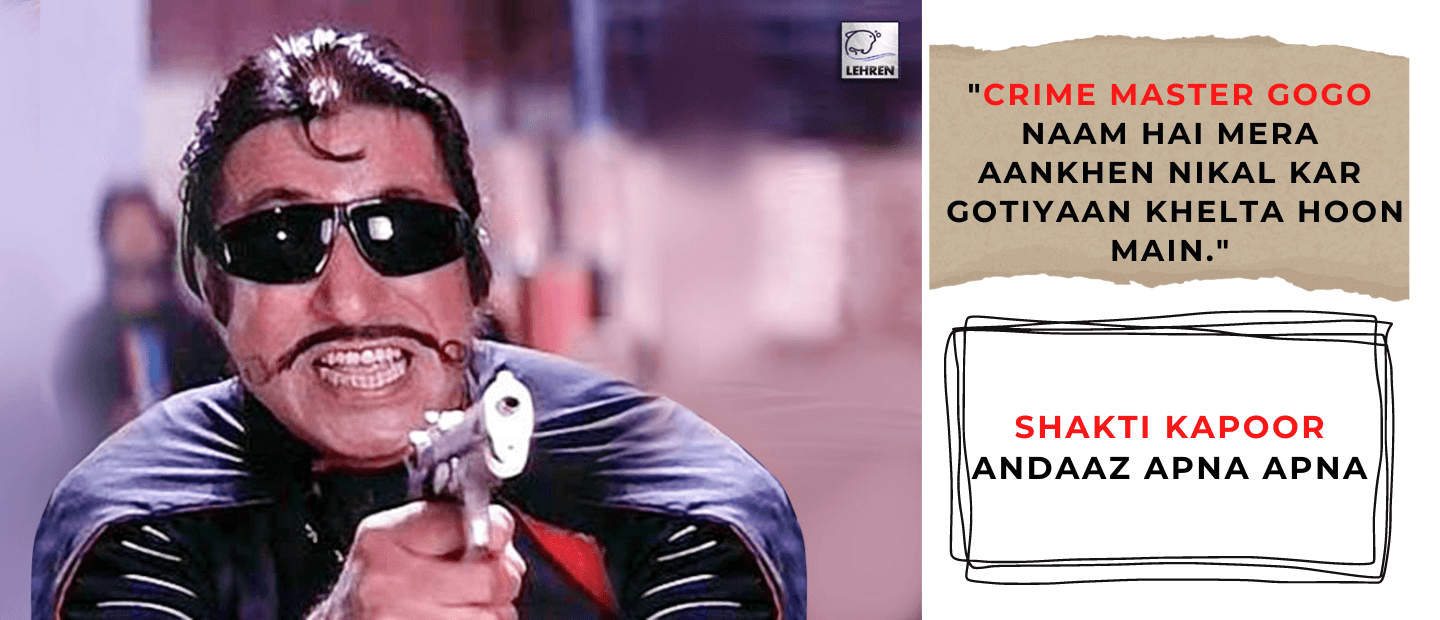 The role of a cunning snitch villain who prefers to avoid direct conflict with the protagonist is most suited for Shakti Kapoor. He is best described as a "very opportunist character"
Key Dialogue:
"Crime master Gogo naam hai mera … aankhen nikal kar gotiyaan khelta hoon main."
8. Kulbhushan Kharbanda, The Bald, terrifying villain: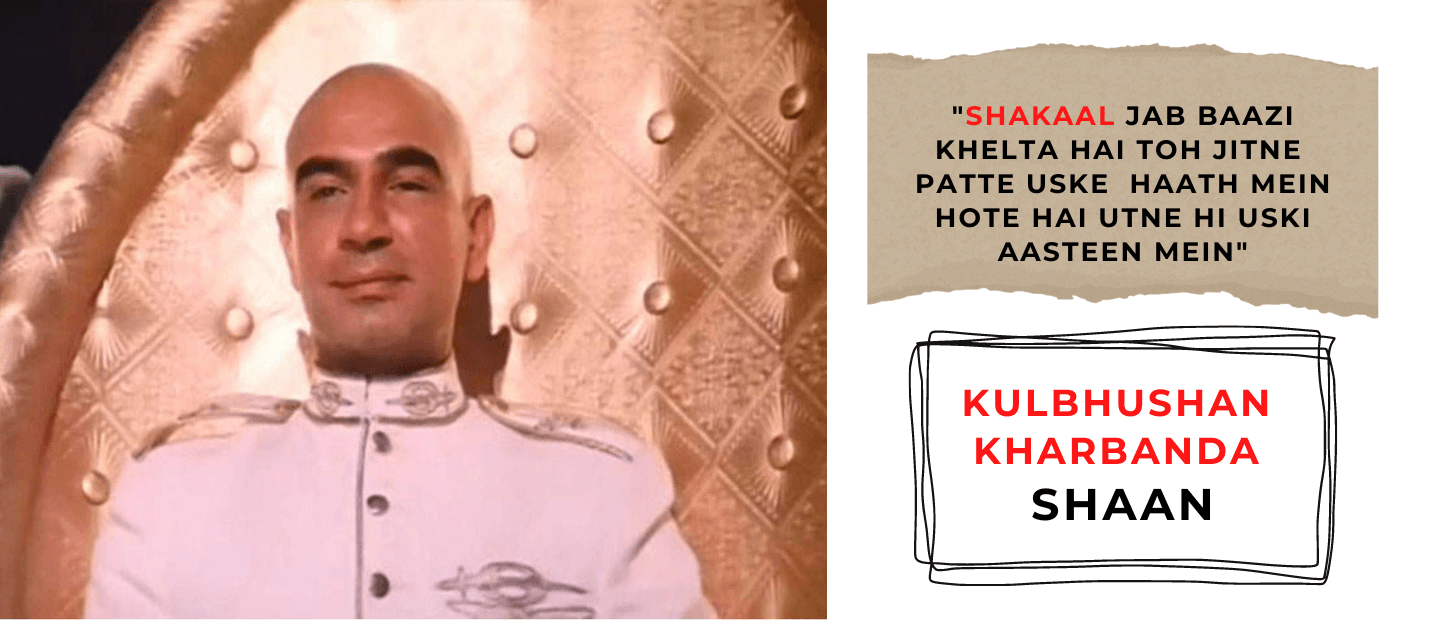 Kulbhushan Kharbanda entered the ranks of the finest Bollywood villains when he played Shaakal. His scary demeanor and nasty smirk can still make you tremble. Shaan marked Kulbhushan's entrance into mainstream filmmaking, and astounded producers, critics, and viewers with his talent.
Key Dialogue:
"Shakaal jab baazi khelta hai toh jitne patte uske haath mein hote hai utne hi uski aasteen mein"
9. The "Cunning, Comic & Greedy" Villain- Paresh Rawal: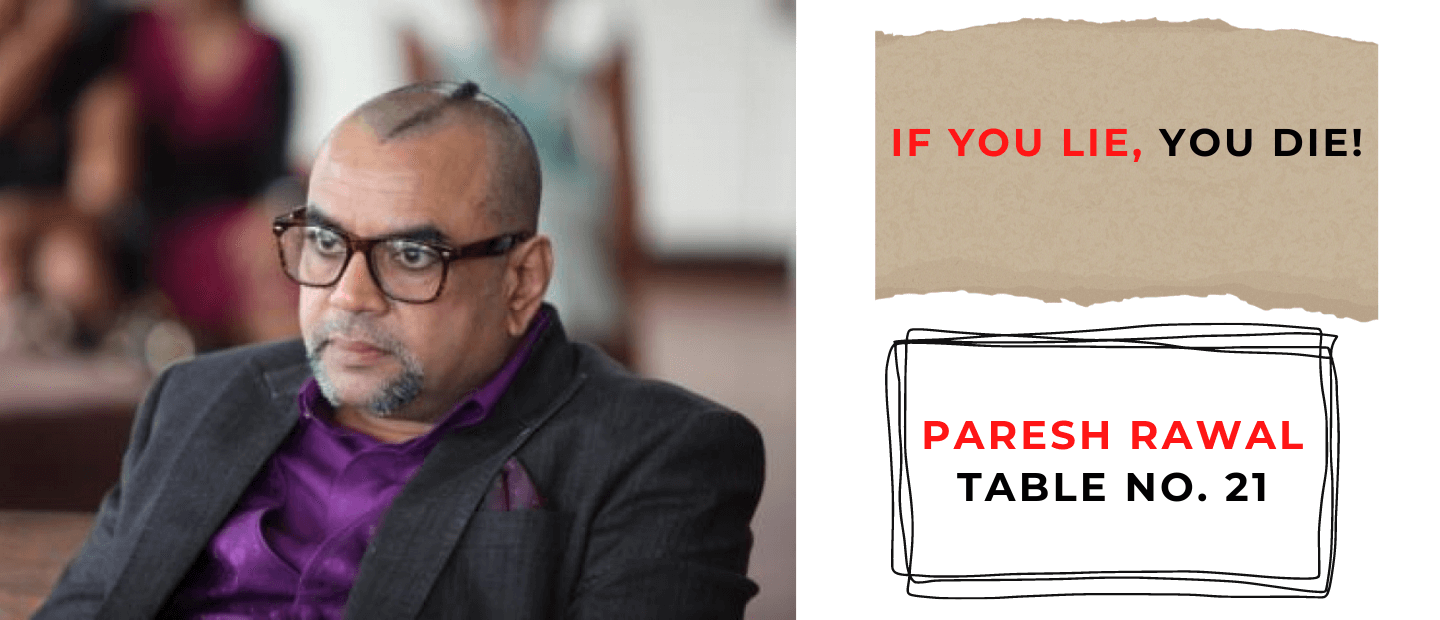 In Bollywood, Paresh Rawal has had great success playing the good and the bad guy. His performance as a villain was superior to many of the bad guys of Bollywood, whether he was playing a crooked politician in Baazi or the comedic villain Pinki in Daud, or even in the more recent Table No. 21.
Key Dialogue:
"If you lie, you die!"
10. The "Bad Man" Villain- Gulshan Grover:
He appeared as "Bad Man" in the movie Ram Lakhan. However, over time, this has become his "moniker." Gulshan Grover, who has portrayed a number of notoriously evil roles, is one of the most despised Indian Villains Bollywood has had.
Key Dialogue:
"Humse ankhen milane wala, bahut jaldi ankhen bandh kar deta hai"
Now that we have laid our eyes(Sans the buri nazar) on all the exemplary VILLAINS and their dialogues, we know for a fact that they have been the light towards what we know as villains today. Without these actors being at their best at all times, Bollywood wouldn't have reached the height of success today. To celebrate the legacy of these and many more actors and films that Bollywood has given us in the early 1900s, go through more of our content on the sabezy website. We are sure that it would take you on a nostalgic ride to your childhood.
Don't forget these Bollywood Indian Villains and their dialogues have made our movie watching experience unforgettable.
If you liked our content make sure to share it with your movie buff friends and do read our other blog about mushy friendhip goals in bollywood movies, Click here to read now.