Are you a teenager eager to explore the world of makeup? Or a parent looking to make informed choices about the best makeup products for your teen? Look no further! Here we'll walk you through the best makeup products specifically designed for teens, ensuring you find the perfect cosmetics that enhance your natural beauty while keeping your skin safe and healthy.
Are you curious about the world of makeup, or perhaps already dabbling in it? As a teenager, you're in an exciting phase of self-discovery, and makeup can be a wonderful tool for self-expression. In this blog, we'll guide you through the best makeup products for teens, so you can explore your creativity while keeping your skin fresh and vibrant.
1. Why Teens Need Special Makeup: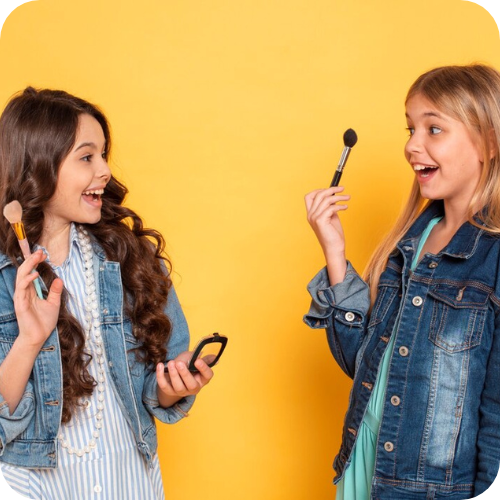 Teens have unique skin, which calls for specific makeup products that cater to their youthful, developing complexion. Here's why:
Gentle Formulas: Teen skin is more delicate and prone to breakouts, so it's essential to use makeup products with gentle, non-comedogenic formulas that won't clog pores.
Light Coverage: Most teens have naturally beautiful skin, so they don't need heavy coverage. Light foundation and concealer are perfect to even out the skin tone without feeling heavy.
No-Harm Ingredients: Teens should avoid makeup with harsh chemicals. Look for products free of parabens, sulfates, and artificial fragrances for skin health.
2. Best Makeup Products for Teens:
Let's dive into the essential makeup products every teen should consider:
Foundation and Concealer: A good foundation is the base of every makeup look. Teens should opt for lightweight, non-greasy foundations that offer a natural finish. For people with sensitive skin, mineral foundations are a fantastic option. Concealers, on the other hand, help cover imperfections like blemishes and under-eye circles.
Lip Products: Experimenting with lip color is fun and easy. Lip glosses, tinted lip balms, and sheer lipsticks are fantastic choices for teens. They add a pop of color without being too intense.
Eyeshadows and Eyeliners: For a subtle and youthful look, go for neutral eyeshadows. Cream-based eyeshadows are easy to apply and blend. As for eyeliners, pencil or gel eyeliners give you precise control for defining your eyes.
Blush and Bronzer: A touch of blush and bronzer can provide a healthy glow. Opt for peachy or rosy blushes and matte bronzers to keep it looking natural.
Mascara: Mascara opens up your eyes and adds a hint of drama. Choose a waterproof mascara if you want it to stay put throughout the day.
3. All About Skincare:
Before diving into makeup, it's crucial to establish a skincare routine. Clean and moisturized skin provides a better canvas for makeup application. Use a gentle cleanser, or moisturizer, and don't forget sunscreen to protect your skin from harmful UV rays.
4. How to Choose Makeup that Suits You?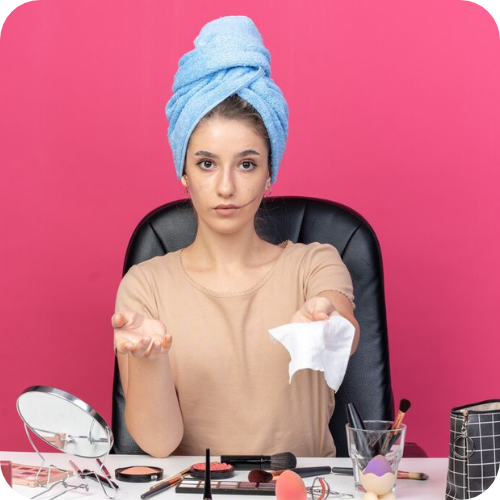 Finding the right makeup products can be overwhelming, given the vast array of choices. Here's how to make it easier:
Know Your Skin Type: Whether your skin is oily, dry, or combination, this affects the makeup you choose. Match the product to your skin type for the best results.
Test Before You Buy: Before making a purchase, try testers or samples. This way, you can see how a product looks and feels on your skin.
Understand Your Undertone: Your skin's undertone (warm, cool, or neutral) influences which makeup shades look best on you. Understanding your undertone can help you choose flattering colors.
A Word on Clean Beauty:
Clean beauty is a rising trend, emphasizing products free from harmful ingredients. For teens, clean makeup can be an excellent choice as it's generally gentler on the skin. Look for labels like 'organic,' 'cruelty-free,' and 'non-toxic' when shopping for makeup.
Budget-Friendly Options:
Spending a lot of money on makeup is not necessary. There are plenty of budget-friendly brands that offer high-quality products. You can find excellent drugstore makeup that won't break the bank.
5. Makeup Application Tips for Teens:
Here are some tips to ensure your makeup application is flawless:
Clean Brushes: Regularly clean your makeup brushes to prevent bacteria build-up that can lead to breakouts.
Blend, Blend, Blend: Blend your makeup well to avoid harsh lines and ensure a natural look.
Less is More: Remember, you're enhancing your natural beauty, not masking it. Keep your makeup light and age-appropriate.
6. Keeping Makeup Clean and Safe:
Makeup hygiene is crucial. Here are some guidelines to follow:
Expiration Dates: Pay attention to the expiration dates on your makeup products. Using expired products can cause skin issues.
No Sharing: Avoid sharing makeup with friends, as it can lead to the transfer of bacteria and infections.
Removing Makeup the Right Way:
It's critical to properly remove your makeup at the end of the day. Use a gentle makeup remover or micellar water to dissolve makeup, followed by a mild cleanser. This keeps your skin healthy and clean.
Conclusion:
Exploring the world of makeup as a teenager is a delightful journey of self-expression. The best makeup products for teens are those that enhance your natural beauty and provide a safe, enjoyable experience. Remember to embrace clean beauty, consider your budget, and prioritize skincare. For affordable and best makeup products visit us at Sabezy.com.